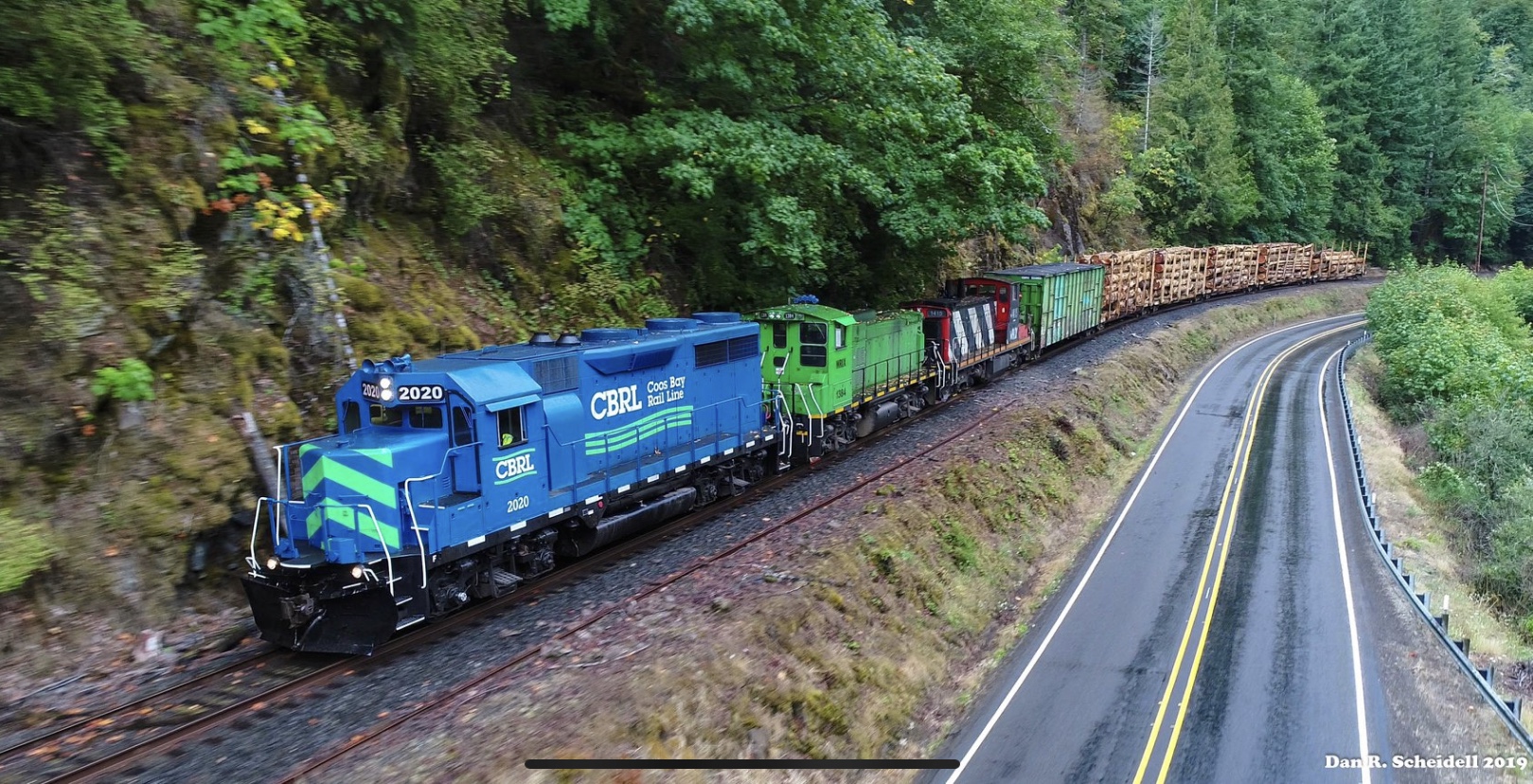 Western Rail incorporated provides locomotives and locomotive parts to the railroad industry world wide from our service sites all over America, corporate office base in Airway Heights Washington, with service sites in Illinois , Arkansas and Idaho.

Dedicated Customers: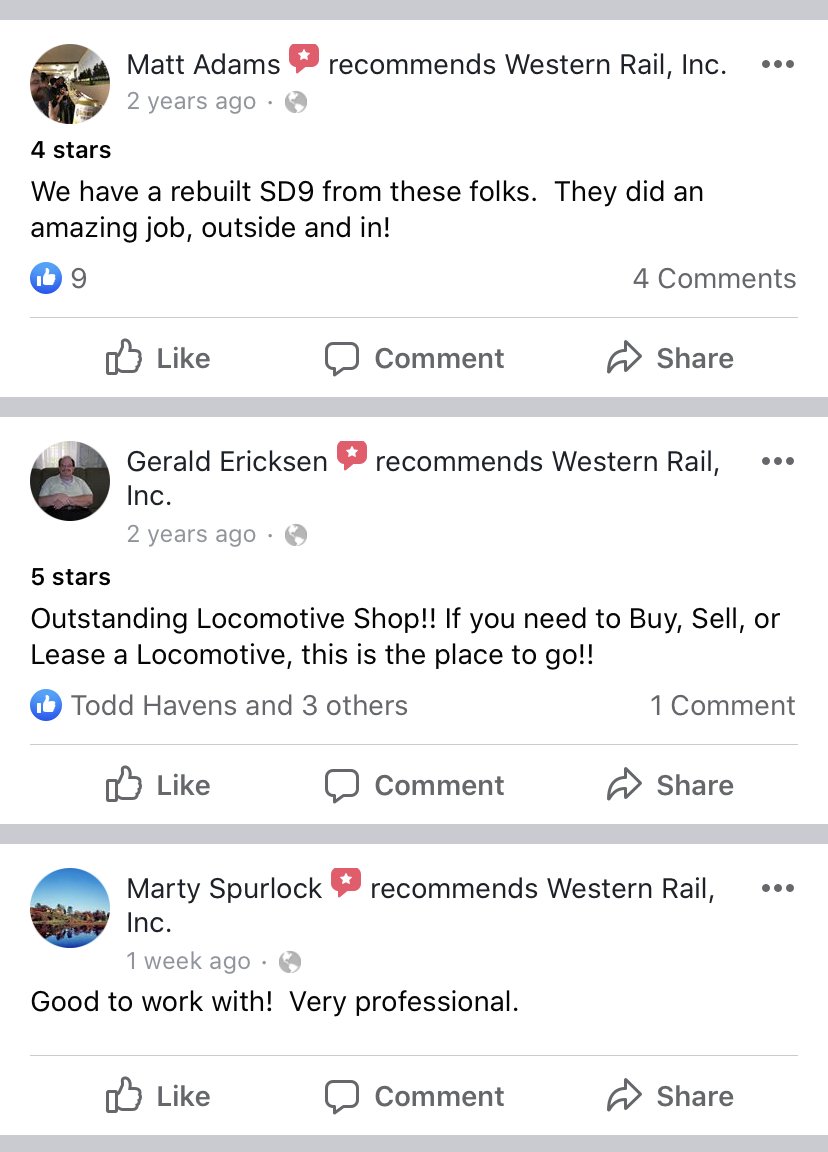 Interesting Articles and images from Tom Danneman of Trains Magazine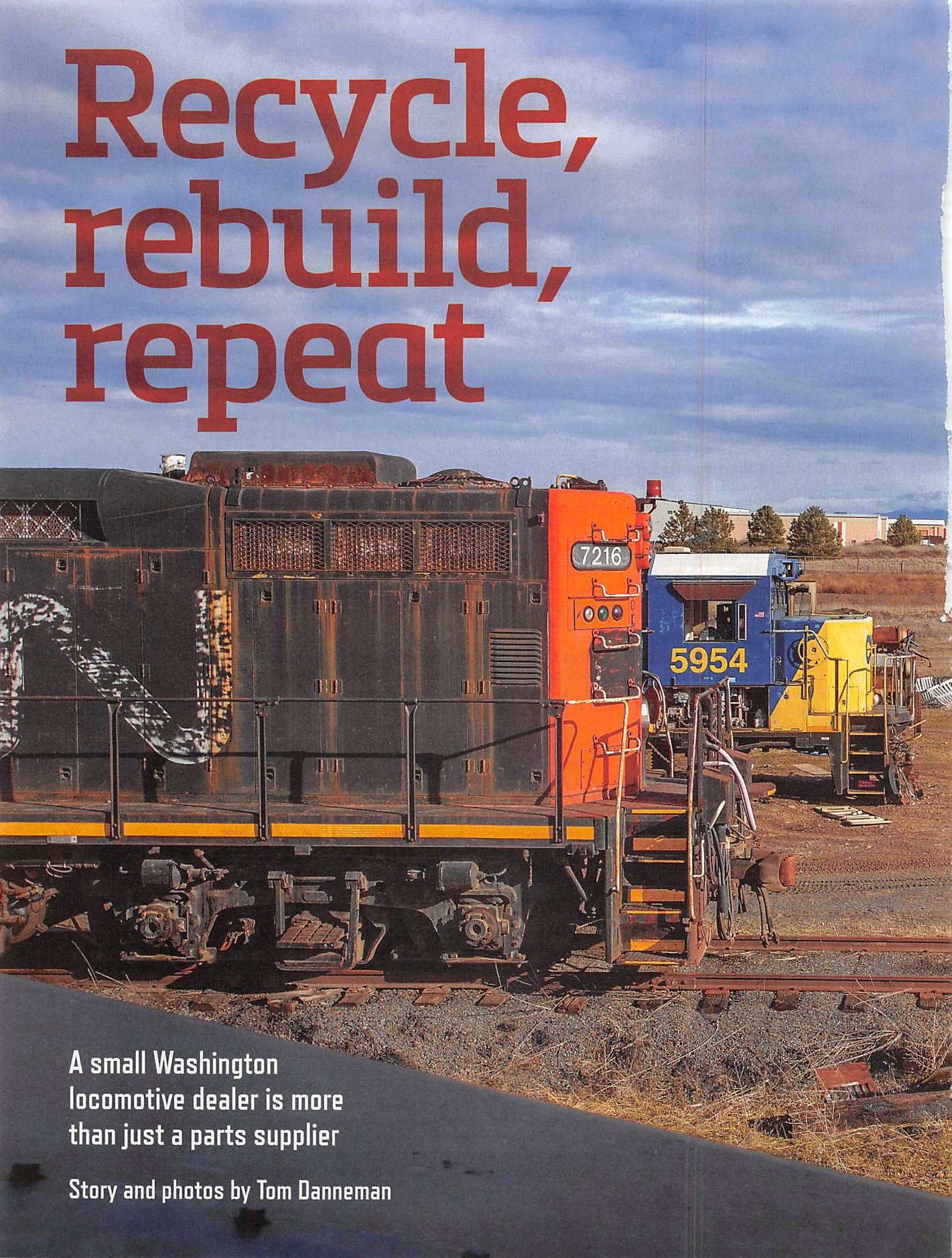 Spokane counties Spokesman review article in the early years of the company not long after the move to the Airway Heights facility: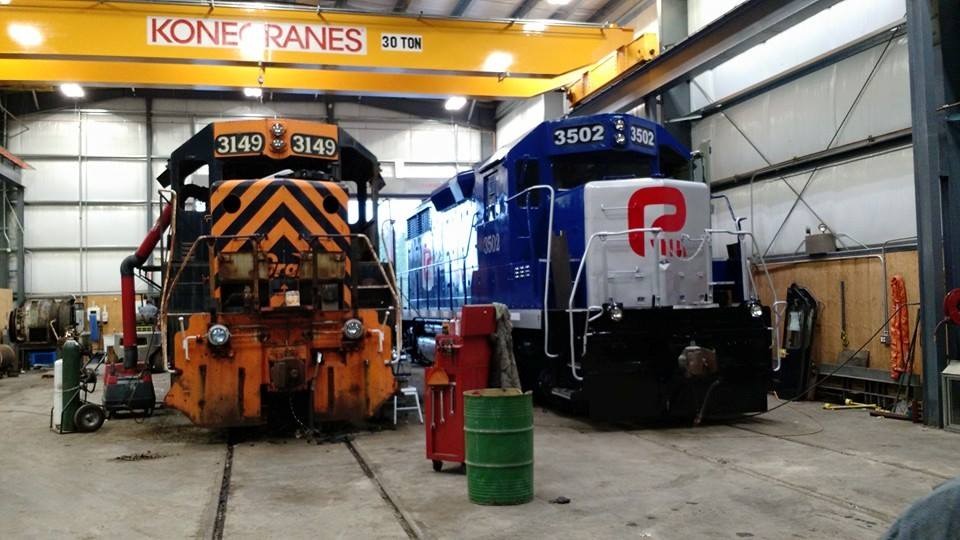 Western Rail Inc. moved to the West Plains so it would have rail service. Little did the seller of used locomotives and parts know it would end up providing rail service itself. With whats known as the Geiger spur facing closure, Western Rail President Todd Havens offered to take on switching operations for the short piece of rail line to keep it operational. A handful of Western Rails new West Plains neighbors, including Metals Fabrication Co. and steel distributor Seaport Steel, rely heavily on the line to bring materials to their facilities, and those companies and Western Rail all had said that closing the line would have hurt their businesses and cost jobs.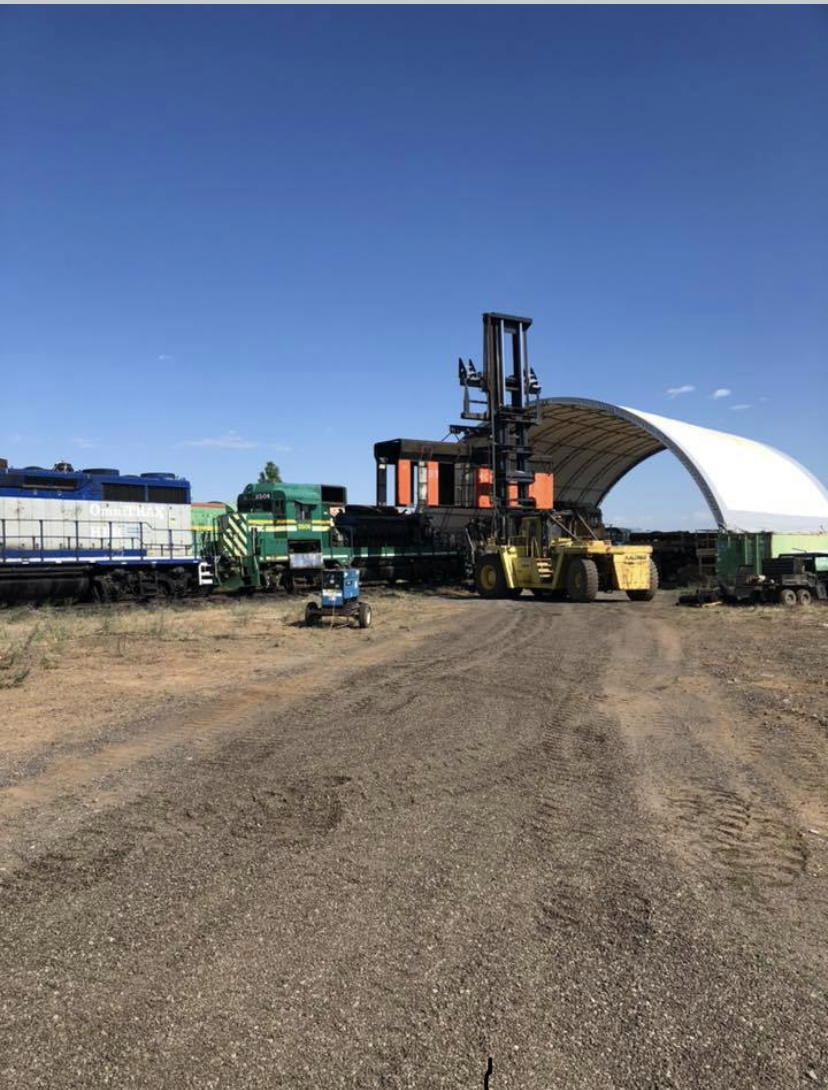 Now, Western Rail has a tentative agreement with Burlington Northern Santa Fe Railway Co., Fairchild Air Force Base, and Spokane County to provide switching service for the Geiger spur, a five-mile piece of track that runs from the north end of Fairchild, south and east to near the intersection of McFarlane and Hayford roads. By March at the latest, well be running this line, Havens says. Western Rails unforeseen entrance into a new line of business now is viewed as a necessity for the 14-year-old company to realize fully its potential at its new home. The company moved earlier this year to a 23-acre site along McFarlaneand along the Geiger spurwhere it built a 6,000-square-foot warehouse and brought in a 700-square-foot mobile office building. In the next year, the company plans to install about a quarter-mile of its own railroad track parallel to a quarter-mile of track already on the property that connects to the Geiger spur.
The new location will allow Western Rail to store all of its used-locomotive parts inventory and some locomotives in one place for the first time in its 14 years of business.
Most recently, the company was located in a 1,000-square-foot office-warehouse building on one acre of bare land at 8225 W. Trails Road in West Spokane, where it didnt have much space for its bulky inventory. Western Rail warehoused most of its locomotive parts at facilities throughout the U.S.
Since moving to its new site in May, the company has brought in 30 truckloads of used locomotive parts from its leased warehouses in California, Illinois, and Arkansas. Havens estimates that Western Rail has another 30 truckloads of parts to haul in from a variety of sites, including additional warehouses in Illinois, Arkansas, Iowa, and Florida.
Havens says the company is shutting down some of those warehousing operations, but might continue to warehouse some parts in the Eastern U.S. because of the volume of business it does in that part of the country, where there is more rail activity.
If you look at a rail map of the East, you cant see the land for all the rail, Havens says. In the West, you cant find the rail in all the land.
The company currently has an inventory of 14 locomotives for sale or lease, one at its West Plains operation and 13 at the Pend Oreille Valley Railroad shop in Usk, Wash. Western Rail contracts with Pend Oreille Valley Railroad there who work full time rebuilding and repairing locomotives that Western Rail will market.
Western Rail might move some of the refurbished locomotives to the West Plains, but intends to continue to contract with Pend Oreille Valley Railroad for all of its repair and rebuilding work.
Pat Rowe, a sales manager for Western Rail, says the company already has benefited from having more space. Its personnel now have a better idea of what parts it has and what condition they are in.
Also, he says, We can keep a lot of stuff we used to throw away.
When Western Rail brought a locomotive into its old facility to disassemble in order to sell off individual parts, or to part out the engine, it often had to dispose of the larger parts, because it didnt have the space to store them. Now, it has more space than it can use.
I look forward to growing out here, Havens says. I see upwards of 10 to 15 employees out here once we get everything built.
The company currently employs five people.
Havens says Western Rails annual revenues fluctuate between $1 million and $3 million and are projected to be in the lower half of that range this year.
Between 60 percent and 70 percent of its customers are short-line railroads, like the Pend Oreille Valley Railroad, as well as industrial railroads, which operate within large manufacturing facilities, such as oil refineries or lumber mills, Havens says.
The balance of the companys revenues come from parts sales to large railroads, such as BNSF, he says. In addition to selling to big railroads, Western Rail also buys a lot of its inventory from them.
Its customers are located throughout U.S. and Canadawith some in Central America and South America.
About 70 percent of the companys revenues come from parts sales and locomotive rebuilding and repair. The other 30 percent involves the sale or lease of used locomotives.
Rowe says used rail parts range in price from $10 for an old headlight cover to $50,000 for a new engine. Used locomotives the company currently has in stock are anywhere from 20 years old to 50 years old. They range in price from $30,000 to $200,000.
Havens doesnt expect that the switching service for the Geiger spur will be a significant contributor to Western Rails bottom line. To take over the switching operation, the company will invest about $100,000 in a locomotive, insurance, and other expenses. At the current rate of traffic, he says, that operation likely would just break even.
Through the agreement Western Rail is working on with BNSF and FairchildFairchild is involved because the line runs through part of the baseBNSF would transfer ownership of the line to Spokane County, and Western Rail would operate it on the countys behalf.
Havens says that running a small line like the Geiger spur with relatively little trafficabout 10 rail cars a weekis something that larger railroads are trying to get away from.
He says BNSF has been helpful in efforts to keep the line operational.
They dont want to abandon a line, he says. They just dont want to run it.